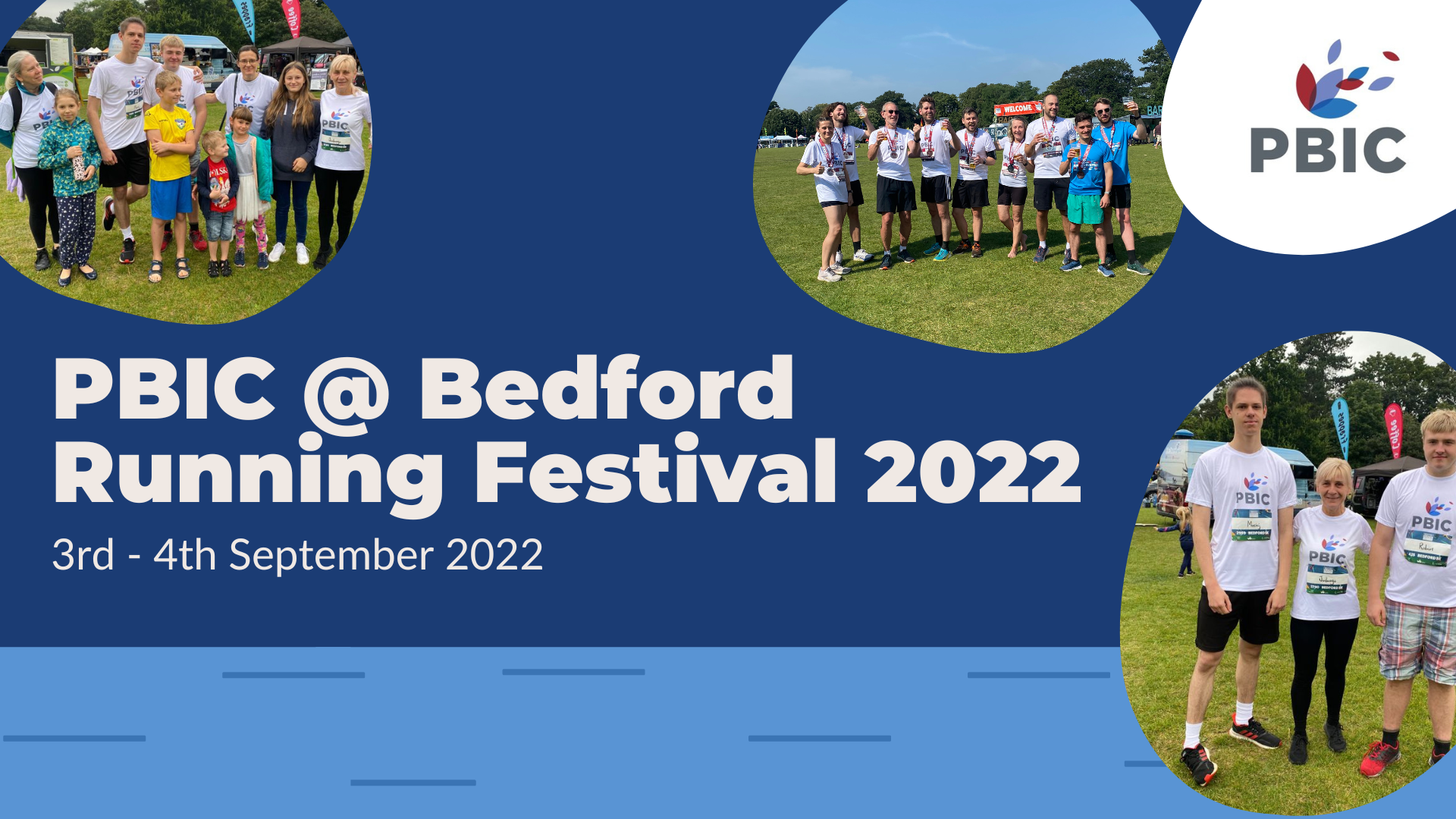 PBIC @ Bedford Running Festival 2022
Planning on taking part in Bedford Running Festival 2022? Support PBIC as the charity of your choice!
On the 2nd & 4th September 2022 we'll be at the Bedford Running festival and we'd love it if you could join us. Whether you'd like to take part in the runs or come and cheer us on – we'd love to see you there!
Get involved!
You can support us by signing up to one of the runs and choosing PBIC Bedford as the charity you'd like to support. When you sign up, we'll provide a super cool PBIC t-shirt 👕.
We have also set up a total giving page, where you can create your own fundraising page where you can ask friends and family to sponsor your run.
Choose the run you'd like to take part in and sign up by following one of the links. Don't forget to choose PBIC Bedford as the charity you'd like to support!
Not a keen runner?
No problem! You can still donate to our cause by following this link:
https://www.totalgiving.co.uk/appeal/PBIC-bedford-running-fest-2022
And of course, we'd love to see you on the day supporting the runners! 👏👏👏
However you decide to get involved, we'll be forever grateful!
👉 The cause
PBIC has been in operation helping migrants feel safe and secure in the UK since 2004. More recently, we've been especially focused on coordinating care and support for Ukrainian guests coming to England.
People arrive in the UK for different reasons, but what's prevalent amongst those moving here is the hope for safety and security. Starting life in a different country can be terrifying. Different language, culture, systems and being away from your loved ones.
We do everything we can to ensure all who walk through our door know that they are not alone. We act as guides, advisors, and educators. We provide help with careers advice, general advice, education, settled status, healthcare, learning English and much more. We are here to listen, help, and form a plan of action for the future. Our services aim to empower and encourage individuals to become independent, allowing them to take ownership of their issues, understand their rights and the systems that govern the communities in which they live.
We never turn anyone away; our holistic and human approach is what makes our
services so popular.
Now we need your help to keep going!
We hope to see you there! 🤩