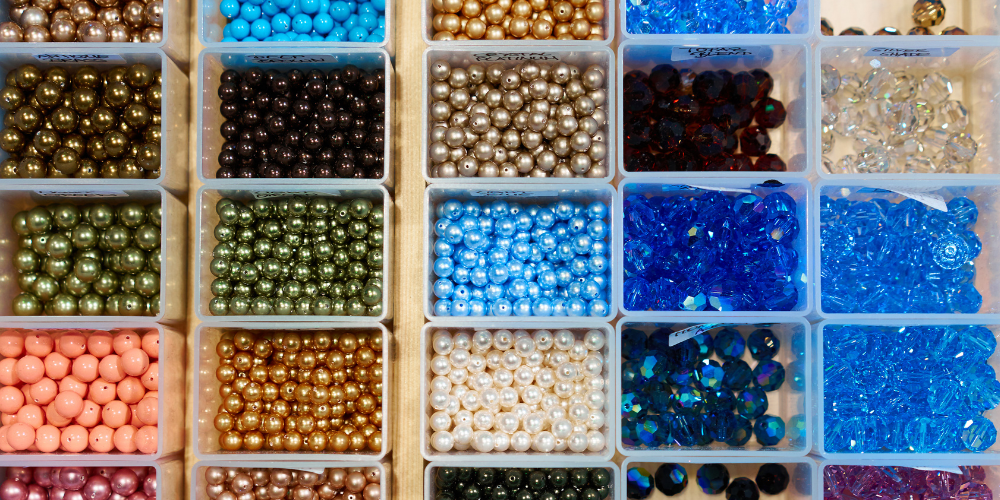 In February of 2022 PBIC expanded their ESOL provision to encompass social activities. This is an important part of learning English as a second language (ESL), because when you practice speaking English in a group, it allows the students to interact with, and learn from, other ESL students in a relaxed but authentic environment. One of the benefits of improving your English by speaking in a group, is the fact that all of the students have slightly different levels of comprehension. This means that the learners who speak less English can be supported by the more proficient speakers. They can offer support by being able to explain a word or phrase in their own language. This creates a supportive learning environment where the students are encouraged to develop their spoken language skills without forcing them to step too far from of their comfort zones.
For our social activity, we invited learners to come and learn how to make pieces of jewellery using semi-precious stones, and different coloured beads of all shapes and sizes. We started by making earrings using a "Shepard's Crook" finding. Then we looked at making bracelets. The first design that we looked at was quite straight forward; it used an elasticated chord which needed to be tied using a "surgeon's knot" before being secured by a dab of clear nail varnish. The second design used toggle clasps and lobster clasps which were attached to a piece of nylon thread or copper wire. Once we had mastered the bracelets we moved onto necklaces. Each week the students made a range of different bracelets, necklaces and earrings. We also ran a free creche alongside the sessions to help mothers that wanted to improve their English but needed some help with childcare. All of the learners found making jewellery to be very therapeutic which had a positive impact on their well-being and mental health. They looked forward to not only making jewellery for themselves but also for other members of their families. One student has enjoyed making the jewellery so much that she has decided to start a business selling the jewellery that she makes on-line.
As the sessions progressed some of the learners requested an interest in developing their written English, so we produced some activities at the appropriate level to help them with their understanding of English grammar, and to broaden their vocabulary. One key area that has developed over the 6-week programme is the learner's confidence. During the initial weeks there was a lot of gesturing, but this soon gave way to the learners being able to ask for help, or to ask for specific tools. This newfound confidence helped on other areas, such as speaking with teachers or neighbours and allowed the learners to be more independent. As most of the learners stated that they only watched programmes from their own countries and that they only spoke their native language at home, it was clear that the opportunity to speak English, even for a few hours a week, was very beneficial.