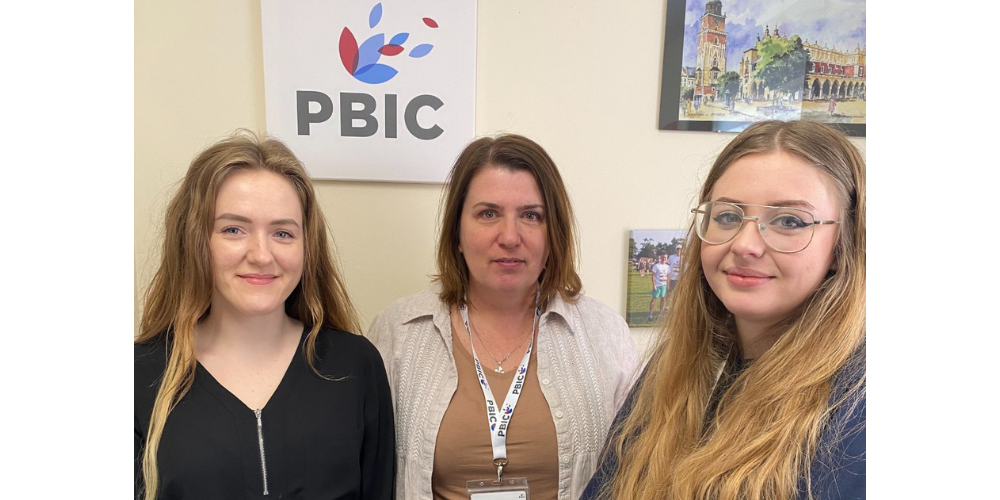 Coordinating Support for Ukrainian Refugees temporarily living in Bedford Borough
We are pleased to announce that PBIC is working closely with The Harpur Trust and Bedford Borough Council to coordinate care and support for guests from Ukraine arriving in Bedford. The Harpur Trust and Bedford Borough Council are jointly funding this project to be delivered by PBIC which is helping migrants to settle into the local community whilst ensuring they are guided to the appropriate help and services they need and to which they are entitled.
We know that many organisations and individuals in Bedford Borough want to support people arriving from Ukraine. Therefore, PBIC is set to offer a central point of contact in Bedford Borough to help co-ordinate offers of support and make sure that the most appropriate help is provided to those who need it. To do this effectively, we will be setting up a Bedford Support for Ukrainian Guests Forum and will be recruiting volunteers.
The Bedford Support for Ukrainian Guests Forum
To help with effective access to mainstream services, support from the voluntary & community sector and other forms of support, we will be setting up a Bedford Support for Ukrainian Guests Forum. This forum is to become a communication platform linking organisations offering help, to Ukrainian Guests arriving in the area. We are looking to work with all organisations offering various services to those arriving in Bedford from Ukraine.
We are keen to hear from organisations looking to help and encourage them to sign up to the Forum by emailing UGF@pbic.org.uk. Please include a description of the support you can offer.
Ukrainian Guest Volunteers
To enable access to various organisations from the voluntary & community sector, private and public sectors for Ukrainian Guests facing language and cultural barriers, we will recruit volunteers who will work with PBIC advisers and when appropriate escort guests to relevant services they need.  For example, volunteering in this position could involve showing guests where to find the bank or the doctor's surgery, explaining how certain services work in the UK or translating for advisors delivering sessions.  
If you are interested in becoming a Ukrainian Guest support volunteer, please email  UGV@pbic.org.uk.  We are especially in need of those who can offer Ukrainian as a second language.
Whilst PBIC is offering a holistic support service for our Ukrainian Guests, there are some areas which we will not be covering as part of this project:
Matching sponsors with Ukrainians prior to their arrival
Donations sent to Ukraine and Poland for victims of the Ukrainian Crisis
However, we are looking for local organisations who will work in these areas so we could refer all enquires to them accordingly.
At PBIC we have the coordinating skills, the funding and the partner organisations on hand to, together, make life just that little bit more bearable for those who are fleeing the brutal invasion of Ukraine and are seeking sanctuary in Bedford Borough. There is so much that we do not know yet about the timescales of arrival or numbers that want to make Bedford their temporary home but, whenever and whoever they are, we are committed to work alongside our partners to provide the wrap around care and support in languages that these guests need and deserve. Several Ukrainian guests have already sought out our multi lingual services and we are preparing now so that we are all ready for when those numbers arriving undoubtedly increases through the late spring and early summer as the UK visa application blockage becomes untangled.

Nigel, Chair of Trustees, PBIC
"The war in Ukraine is the biggest refugee and humanitarian crisis in Europe since the second world war. We applaud the people of Bedford who are helping by opening their homes to refugees, fundraising, and offering other support. As the grant maker that is Here For Bedford, we are funding PBIC to help make that process easier for the many voluntary groups, individuals and organisations trying to help, and to provide specialist support for refugees in a language they understand. We are pleased to be working with Bedford Borough in this time of crisis."

Lucy Bardner, Community Programmes Director, The Harpur Trust
"We are grateful to be working with PBIC, The Harpur Trust and other partners as we support Ukrainians who arrive in Bedford Borough.

"The war in Ukraine is appalling and the people of that proud country are suffering untold hardship. I am proud of Bedford Borough's long history of being open and welcoming to migrants and refugees and once again our local communities are stepping up to support people their time of need."

Bedford Mayor Dave Hodgson