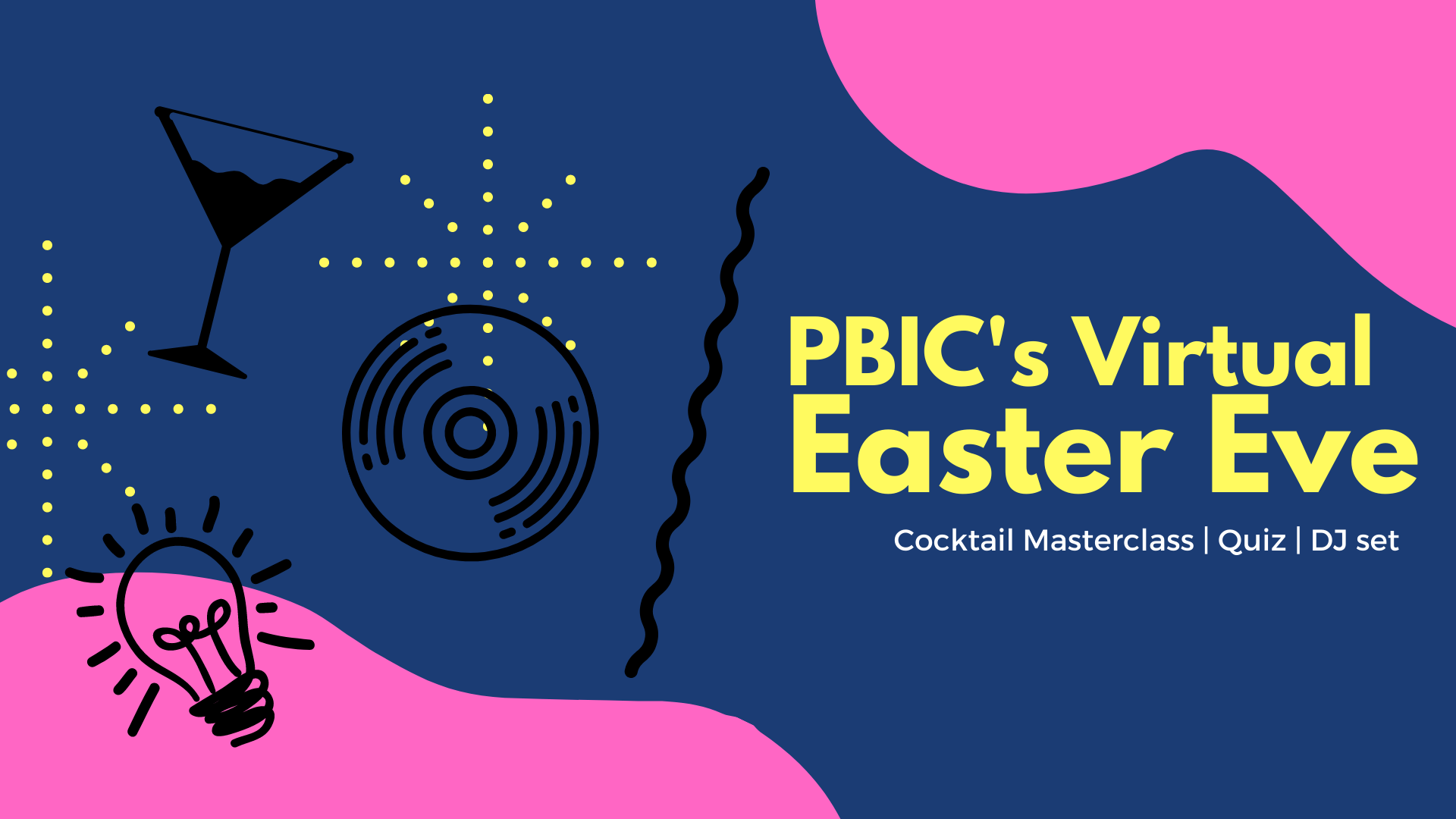 PBIC's Easter Eve Fundraiser (COCKTAILS/QUIZ/DJ SET)
Here it is – our first virtual fundraising event!
We've been working to pull together the perfect night-in, for you to have a great time whilst raising money for a great cause. PBIC has been in operation helping migrants feel safe and secure in the UK since 2004 and we need your help to keep going!On the 3rd April 2021 we've prepared an evening of cocktails, quizzes and music for you to enjoy. As restrictions are slowly lifted across the UK (yay!), this may just be your last opportunity to huddle round a laptop screen shouting incorrect answers whilst enjoying a homemade cocktail. Now you wouldn't want to miss that would you?So here's what we have in store for you:
✦18:00 – PBIC's special cocktail class 
more TBA
✦19:30 – VIRTUAL QUIZ 
more TBA
✦21:00 – Live Stream DJ Set 
more TBA
How do I take part?
To join our fundraising evening all you have to do is register at the link below – all it takes is a £1 donation (or even more if you feel generous!)https://www.totalgiving.co.uk/appeal/pbic-easter-eve
Once registered we'll send you your cocktail ingredients, recipe cards and instructions for joining the quiz so you can be ready for our evening of fun!
Here's a link to our Facebook event page for more information: PBIC's Easter Eve Fundraiser
The Cause
PBIC supports migrants arriving to the UK with any issues they may face. We provide help with careers advice, general advice, education, settled status, healthcare, learning English and much more. Our services aim to empower and encourage individuals to become independent, allowing them to take ownership of their issues, understand their rights and the systems that govern the communities in which they live.We never turn anyone away; our holistic and human approach is what makes our services so popular. Our staff and volunteers have gone above and beyond working through the pandemic, providing support to many who feel lost, confused and isolated during these times.
The demand for our services just keeps growing. We're getting more and more people through our door every day.Learn more about us below and on our website www.pbic.org.uk
As a charity we rely on you and your generosity to be able to keep our services free for those who need them most. If you'd like to support our cause further – donate here:https://www.totalgiving.co.uk/appeal/pbic-easter-eve
We'll be forever grateful! 
Here are some testimonials of people we've helped:
"I am very grateful for all the help I have received. I was in a position where I really needed help and you were there and ready. Your advisor went above and beyond to support me. I felt valued and respected throughout the whole process. You advisor had that basic human empathy which made all the difference. I have since been able to transfer my nursing qualifications and am working in my profession which is something I didn't think was possible"
"PBIC supported me when I was in a very tough situation. I have no idea what I would have done without them. No idea. It would have been the end of the road for me. A dark future awaited. I am scared to even think how things might have ended for me. But now there is hope. I am full of wonder for the support I have received. Thank you!"
"Your organisation is a window into the world showing us migrants that there are options for us in the UK. You help so many people. Without PBIC I don't know what would have happened to us. It would have been very tough. Without your support we wouldn't have a roof over our heads (…)"